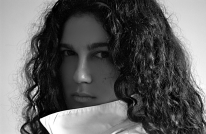 Ondine Brent, Founder and Directrice, was born in the European financial mecca of Geneva, Switzerland. Ondine began her career as a hipster on the French Riviera, in the exclusive hamlet of Cap d'Antibes. Early days were spent at the renowned Hôtel du Cap, playground of the international jetset. Between visits to the casinos and grand-prix at Monte Carlo, Ondine was spoon-fed a diet of culture, sophistication, and glamour. After an adolescence in Los Angeles, during which she interned at the Beverly Hills estates firm Rodeo Realty, Ondine realized that her two passions, music and fashion, needed to be cultivated in a new environment.

So she moved the whole operation to the bastion of timeless chic, Boston, MA. While in Beantown, Ondine pursued her dual careers in music, performing regularly with the Boston Symphony Orchestra's Tanglewood Festival Chorus, and in fashion, promoting luxury goods and taking the runway as a model. Ondine's reputation as a style luminary grew to legendary proportions, and fashionable citizens throughout the Commonwealth began clamoring for her advice. As a social maven, Ondine's exclusive dinner parties, themed-soirées, and black-tie affairs were known to attract international glitterati and intelligentsia. Other highlights of her East Coast tenure include long-term engagements as the go-to-girl for local VIPs, among them a Nobel laureate, world-class musicians and high-profile personalities.

For the past year, Ondine has lived in the City of Light, Paris. No stranger to the limelight, Ondine appeared on French television's prestigious Le Vrai Journal. She graced the stage of the historic Bilboquet jazz club in St. Germain des Prés. Soon her renown as an expert party organizer spread amongst Paris's elite, and she was asked by many to throw special events, among them a May Day fete and a New Year's Eve bash. When not on a modeling gig, Ondine spends most of her time styling aspiring fashionistas and hobnobbing with cognoscenti in the impossibly swank 8th arrondissement. At present, Ondine divides her time between Boston and Paris, but is engaged by clients from Beverly Hills to Bangkok.